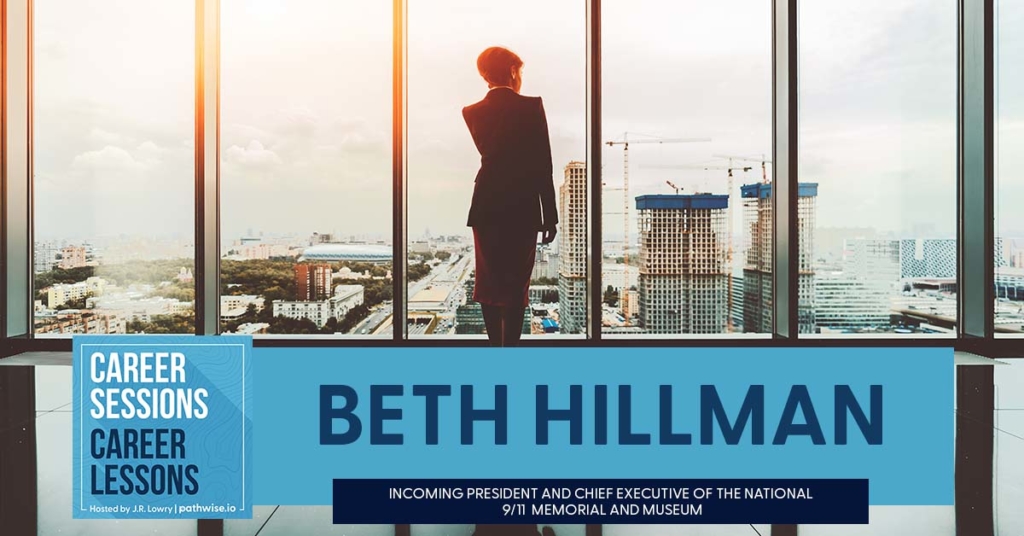 Beth Hillman, President And Chief Executive Of The National 9/11 Memorial And Museum
Serving in the military and teaching history and law have been the pillars of Beth Hillman's journey. Beth started as a US Air Force officer and is now President and Chief Executive of the National 9/11 Memorial and Museum in New York. She joins J.R. Lowry to talk about the different roles she has had between these two positions. Beth imparts meaningful leadership insights as a military history teacher, law professor, provost, academic dean, and author. She also discusses her work as an active advocate of civil rights, social action, and anti-sexual harassment in the military.
---
Watch the episode here
Listen to the podcast here
Beth Hillman, President And Chief Executive Of The National 9/11 Memorial And Museum
On Her Journey From The Air Force To Academia To Being A College President
This episode is brought to you by PathWise.io. PathWise is dedicated to helping you live the career you deserve and providing a mix of career content, coaching, courses, and community. Basic membership is free, so visit PathWise.io online and join today.
In this episode, my guest is Beth Hillman. Beth and I became good friends while in the Air Force ROTC program together at Duke a long time ago.
Beth was recently named the President and Chief Executive of the National 9/11 Memorial & Museum in New York. She started her career as a US Air Force officer, and her first assignment was with the North American Aerospace Defense Command, better known as NORAD. Following that assignment, Beth served as an instructor at the US Air Force Academy for several years before leaving the Air Force and moving into the civilian world. She earned a Master's in History at the University of Pennsylvania while in the Air Force and went on to earn a Law degree and a PhD in History at Yale.
She then moved into academia, teaching Law at Rutgers before becoming Provost and Academic Dean and Professor at UC Hastings. Along the way, she wrote a book and coauthored another on military justice. Beth was named President of Mills College in Oakland in 2016. It's the role she held until the merger of Mills into Northeastern University earlier in 2022.
Beth is an active advocate and volunteer, focusing on education, civil rights, and social action. She's a recognized expert on Military Law and sexual harassment in the military. She lives in Oakland with her wife, Trish, and a blended family of five, mostly college-state children. She will be moving back to the East Coast for her upcoming job.
Beth, welcome. Thank you for your service back in the day, and congratulations on the new role.
Thank you, JR.
It's great to have you on the show. Let's talk a little bit about the new role. You are going to be leading the National 9/11 Memorial & Museum. You are coming out of academia as a College President. How did you find your way into this role?
Sometimes, jobs find you. That has been the case with this one. In 2021, I was focused on closing the deal to merge Mills College into Northeastern [University]. The job I was in was pretty consuming, and I was not looking at other opportunities, yet my wife and I had reached a place in our lives where most of our kids were off to college. We didn't think we would stay in the Bay Area forever, so we were starting to think about what might happen next, and then this popped up. The search firm that the Memorial Museum had hired reached out to me. Usually, I don't respond to those emails but I did this one. I picked up the phone, called them, started talking to them, and went from there. I found it compelling.
When they wrote the press release and the description of why I was the right person for the job, it felt like I was a completely different person than I had been here at Mills College, where I'm president of a small college. I'm going to be the CEO of a tragic event of international terrorism in the United States and in New York [in particular]. Going to [The 9/11 Memorial] drew on a different set of experiences for me. I felt certainly back to where I had started in many ways.
You've done different things over the course of your career. Sometimes you pluck different combinations of things you've done in the past for new roles. It seems like that's what's going on in your case. It's a different mix of skills than what you needed to be a college President.
You are always a cumulative sum of the parts. The things I've learned in the past have always helped me out, even in different roles. After I came to Mills, I realized that being a Chief Executive of a nonprofit is a lot more like running a business than it is like being a faculty member. Running a museum is a lot more like running a business than it was in a lot of other things that I've done. The experiences that I've had at Mills [aren't necessarily] as directly relevant to the challenges and opportunities I anticipate at the National 9/11 Memorial & Museum.
You had your final round interview with Mike Bloomberg, who's the Chair of the Board of the museum. What was it like having breakfast with him, discussing the role, and pitching yourself as the right candidate?
It was exciting. I was a little intimidated. I had spent a lot of time preparing. I asked people about him and read about him. Somebody like Michael Bloomberg has a big profile out there that you can find. It's not like somebody you are not going to know until you get there. I found him true to form. He was warm, personable, generous, and low-key. He has great mastery of the details and tremendous experience. That's what I walked away with, realizing that the chairman of this organization is engaged and very much wants it to succeed. He's the reason that it exists.
It was no easy task to build that Memorial & Museum. He brought together the political and economic forces to overcome all that seemed insurmountable obstacles to building this incredible monument to the tragedy and resilience of the city and the country. It felt that way when I talked to him. He was funny too. He poured me coffee, and that felt weird. When I walked in, he was like, "Do you want some coffee?" I said, "Sure." He got that for me, which felt weird to me because he's Michael Bloomberg. It was good. I learned more about his approach to it too. I was glad for the chance. It's always great to meet people who've cut a great swath through the world.
As you say, this is a very personal thing for him, given his tenure as Mayor in New York and the face of the response after 9/11 in New York. Relative to most nonprofit board chairs, you are going to get an extra level of attention and focus from him. That will be a good thing.
It was an election day in New York on 9/11. They called it off after the attacks. He won that election and served three terms as the Mayor of New York. Re-imagining the World Trade Center site after the tragedy was a big part of what he did while he was Mayor, along with a whole lot of other pretty remarkable things.
Coming out of academia, this is your first foray into the nonprofit world. What are you doing to get ready for the role?
It's a lot of listening, which is usually what you end up doing when you're doing something new. Fortunately, the organization is ready for the transition. They have a CEO who's ready to step down and who has been there for a long time and is successful. They have a great staff, a great board, and a very engaged community around them. I'm trying to learn as much as I can about the operation and then also talking to folks who are now colleagues in that part of the world, not just museum leaders but heads of public cultural institutions to try to understand that, because that's a little different than the higher ed world I have been in for a while.
Billy Crystal, Jon Stewart, and Robert De Niro are all on your board. Who are you most excited about meeting?
I have to say Jon Stewart gets the most votes from my friends and family. They were like, "You're going to meet Jon Stewart?" They are excited about that. I was excited to meet Mike Bloomberg. The trustees are an amazing group altogether, not only the entertainers. It's a wide-ranging and remarkable group that has decided to invest in something that's an awfully a heavy burden to carry and to hold the sacred trust of this space where so many people were killed, and yet, be a place of inspiration and education for all the visitors. It's pretty cool. I'm excited to meet them all.
I would be excited to meet all of them too. Let's go back to the beginning. You grew up in Pittsburgh and went to Duke. How did you end up at Duke? Why did you choose electrical engineering? Why did you decide to do ROTC?
It's always great to meet people who have cut a great swath through the world.
Click To Tweet
It's funny, JR. You probably knew my answers when I was 17 or 18, and now I'll give you my answers when I'm not 17 or 18 anymore. I wanted to leave Pittsburgh, which I later realized was true for a lot of people who grow up in Rust Belt communities. I love Pittsburgh. I remain a Steelers fan. The Pirates are having a rough season. We'll see what can happen this 2022 for the Steelers. I remain pretty identified with the City of Pittsburgh but it didn't seem like a place of opportunity. I wanted to see what else was out there, and I wanted to leave.
It was basketball that drew me to Duke because I had older brothers who were basketball players. I was keen on basketball. Duke had gone to the final four in 1978 when I was paying attention. I liked that team, Gene Banks, Jim Spanarkel, and Mike Gminski. That's a silly reason but it's why I was interested. I chose it too because I was interested in both engineering and non-engineering fields as potential majors.
I liked the idea to be not only at an engineering school but having strong engineering programs and then having the resources of a liberal arts college. That's why I was keen on it. With ROTC, I just wanted to pay for college. I have a twin sister who you know. My parents had ten years between my older brothers, my sister, and me. I felt like I was spending my parents' retirement money when I went to college. I didn't want to be a financial burden to them.
I wanted a scholarship. I incorrectly thought that I would get lots of other scholarship opportunities to go to a place like Duke. I was a National Merit finalist, for instance, but I didn't have a lot of other support. It would have been modest to have only the support I might've gotten if I hadn't accepted the Air Force scholarship. It was an easy choice. I thought, "I'll do this and see what it's like." I didn't know anything about Air Force service, so I threw myself into it.
I also knew I had some time to figure it out before I had to commit. It's changed over the years. At the time, it was a full scholarship to any school you got into. That's the ticket that I got from the Air Force. I had two years to figure it out - until the end of my sophomore year. I thought that was enough time to see if I could commit to service as an active-duty officer in the Air Force.
I will confess to you that I had no concept of Duke basketball before I accepted my offer to go there and quickly became a rabid fan. I'm completely the opposite of you. I thought the campus was awesome. That was why I wanted to go.
It is an amazing campus. I walked around a lot of times thinking, "I can't quite believe I'm in college here. This is where I'm a student."
The irony we both know is that your sister went to the other half of the Duke-North Carolina rivalry. I'm sure that was awkward at points during the basketball season for you both.
For sure, and we were happy to be near each other because I did miss her a lot. It wasn't as easy to see her as I thought it would be until I got a car, which wasn't my first year.
You did get to see her fairly often because I got to know her pretty well during school and have been friends with her since then.
One of the things I remember from your time at Duke is that you played the saxophone and got to perform with Dizzy Gillespie, one of the all-time jazz greats. I still remember that night. What was it like for you?
I was lucky. We had a great conductor, the leader of the Duke Jazz Ensemble, a guy named Paul Jeffrey. He was a great tenor sax player himself and a pretty well-known composer who knew a lot of people. He was the reason that Dizzy came to Duke. What I remember is that Paul and Dizzy were very late, and we had to play a lot of numbers before they got there.
We didn't know if they would show up. They were old friends. Jon Faddis was another great trumpet player who we also played with. Paul got us a lot of great names. It's an amazing thing to play with somebody you've listened to and who you know has such an impact worldwide. That was a gift. I often thought in my interactions with Paul a little bit like I was dabbling in jazz rather than being a real jazz musician because it wasn't going to be my life. I knew that.
Paul, at one point, wanted me to play with him in a small combo that was going to play in some clubs. I said, "I can't do this. I can't be out that late every night. I've got all these labs. I have all these other commitments related to the academics and the Air Force stuff we were doing. I couldn't do it." I felt like I wasn't fully committed. I wasn't nearly as talented as either of them but it was awesome. It was a great gift to be able to encounter world-class people like that when I was in college.
After school, you went into the Air Force. Your first assignment was out at NORAD. Most people probably know NORAD as tracking Santa each Christmas. Some who are old to remember Matthew Broderick hacking into NORAD in the movie War Games. It's there to protect the United States and its allies from an inbound attack. In practical terms, that meant that you worked in a cave (smiling). What was that like working there? What was the day-to-day of being inside the NORAD Complex, deep inside Cheyenne Mountain?
We worked in shifts. I was part of that, at least for the first years I was there. I moved into a staff job a little bit later. The operational crews were all in the mountain. They worked in shifts because we covered all 24 hours. We either worked 8-hour shifts or 12-hour shifts. You were coming and going at odd times. You'd drive up to a big parking lot built on the granite hewn out of the mountain to build that parking lot we all parked on. We went through some security gates. We didn't do a retinal scan at first when I was there. They put those in later but we went through metal detectors. There was a bus that took us down to the tunnel. The tunnel went straight through the mountain. There were some cross tunnels in the middle.
Eventually, I would walk in rather than take the bus. It wasn't that far. It's a ten-minute walk or something. Eventually, I ran too. When I was on staff, I had more time. When I was on shifts, those shifts were 6:30 to 2:30, 2:30 to 10:30, and 10:30 to 6:30 in the morning. You would come in and get a turnover briefing from the crew that was leaving, and you would start. You'd do all the maintenance things and wait and see if anything exciting was going to happen. If nothing exciting happened, sometimes they put movies on the closed-circuit TVs.
It was that "hurry up and wait" thing. That's so often true of the operational tempo in the military. When things happened like when there were launches, satellite maneuvers, collisions, or the space shuttle was out, we were trying to keep it from running into debris. We had more non-routine work to do. Sometimes the challenge would be getting to the routine systems maintenance stuff that we needed to do. What we did was rote but essential.
I liked the less rote things. I liked to train other orbital analysts. I liked learning about different jobs. I tried to get qualified for all the different jobs. When I moved into a staff job, I had more regular hours, working ordinary office hours. I could get out in the middle of the day and run. It was fun to run down a mountain and back up. I liked that. It was beautiful. It was in the South of Colorado Springs on a beautiful mountain out there. It was pretty. I loved living in Colorado. That was my first chance to be there.
I don't know if you remember, but you took me into NORAD one day. I got the tour, and it's one of those cool experiences if you only know somebody in the Air Force who happens to be there. I appreciated that at the time.
I tried to take everybody I could. You got to see the blast door, and the buildings are on big springs with the idea that a wave from a blast would not shake them all apart at the same time. We thought we would be targeted by re-entry vehicles that would melt on top of us if we were in there. There wasn't a lot of hope for that place to survive but it was a monument to that earlier phase of the Cold War era.
You then went and taught at the Air Force Academy. What was that like? You were teaching History, right?
I was. That was completely different. It was completely fascinating. It's a crazy culture. The service academy culture is very intense, unlike when we were in ROTC, where we wore a uniform once a week. We were aware when we were cadets that it had additional obligations but it didn't dominate your life in anything way like it does at the service academies. These young people don't even decide what uniform to wear each day. Everything is dictated.
There's tremendous stress. I remember realizing that difference. I had not appreciated how different academy graduates' college experience was from my own until I got there. Teaching was great fun but also strange. There were a couple of required history classes like World History and Military History, neither of which I had ever studied in college or graduate school when I got there, and I'm suddenly teaching both of those classes. I studied a little Military History as an undergrad at Duke. There was a famous military historian, Ted Ropp, there, who I studied with. I didn't particularly like the class. I also studied with IB Holley, who commissioned me, who was a leading intellectual on the topic of air power. I learned a lot from him. I took general US History from him. I didn't take Military History from Dr. Holley.
The chance to teach was great. I learned a tremendous amount. When you teach World History from the Greeks to Gorbachev, which is what it was at the time, that's a lot to cover. Students are always going to say, "What about this? What about that?" There's no way I could have anything approaching mastery of all that different material. I learned that students teach you a lot and the subject matter isn't essential. It's the engagement, the skills that they learn, and the familiarity with different concepts and issues that makes them better equipped later.
It was fun. I enjoyed it. It was a big time of change for me because I was coming out and realizing I wasn't going to stay in the Air Force, so I was trying to figure out how to navigate that. That came about after I had been in grad school for a year. The Air Force sent me to graduate school to study and get a Master's so I could come back and teach at the academy. When I left the Air Force Academy, I paid the Air Force back for 55 days of service because I wanted to start law school on time. I didn't want to wait a whole year. Fortunately for me, the Air Force was in a "reduction in force" mode, and they were happy to let me go.
I had a similar experience. I had gotten a Master's in Engineering while I was in the Air Force stationed at Hanscom outside of Boston. I got into business school. I wanted to go to business school. Technically, I was committed to Air Force service up through January, the middle of the academic year. I was able to get a waiver and get out a bit early for the same reason. This was at the time when the Berlin Wall came down, and the Soviet Union was breaking up. At the time, the military was in a reduction mode. You and I, in our own ways, both experienced that and also got on with the rest of our lives as a consequence of it a little bit sooner than we might have otherwise.
You were in for 7 or 8 years, longer than I was. I was in not even four years. How did your time in the Air Force shape you as a person? What have you carried with you from that time since then?
In lots of ways, I can't separate myself from what the Air Force helped me become. A sense of obligation to try to do the right thing, I don't know where that came from exactly but I feel that. The Air Force accelerated that. I also think a sense of community. You move so much when you are in the service. You have to build community fast, rely on the people you encounter, and trust them in some ways.
I find in the civilian world that people don't work together as easily or consistently as in the military. People are more on their own and are left to their own devices to figure things out. I know the negative consequences of the conformity that the military seeks and enforces and the inability of many people to fit comfortably into those molds. Still, the sense of community, connectedness, commitment to each other, and serving that higher purpose are all things that the Air Force helped me with.
You got out and went to Yale. You were doing your Law degree and a PhD in parallel. What was your plan professionally at that point? What did you see yourself doing when you finished up at Yale?
It's funny. I did both degrees because I couldn't decide. I wanted a little bit of time. For me, it was a little bit of time to decide to do both degrees, a History degree, and a Law degree. Even when I graduated from law school, I didn't know much about the practice of law and what it was like. Yale is very oriented toward Academic Law and graduates a tremendous number of law professors, which is one reason I chose it. I hadn't had a lot of legal experience. I loved history. I wanted to study more of it but I thought being a History professor would be stepping out of the fray for too long and too much.
I wasn't sure I wanted to be a History professor. I felt like I wouldn't be able to have enough of an impact if I did that. It was a split down the middle, and I did both. I wanted a bit of a break. I'm not good at taking breaks. We were talking earlier that I'm not taking much of a break between the current job and the next job that I'm in now. It did feel like a break for me to be able to be in school, think about things, and also meet completely different groups of people like the History graduate students at Yale, the Law students at Yale, the faculty, and the community there.
The subject matter isn't essential. What matters more is the engagement with the students and the different concepts that make them better equipped as people.
Click To Tweet
You then went into academia, and while you were teaching, you also started to become more and more of an expert on military justice and gender-related issues like sexual assault and sexual harassment in the military. You were on a panel several years ago on that topic and are about to chair another one that's on military justice. How has that played out for you over the course of the time since you graduated from Yale?
To get a PhD, you have to have a dissertation topic. It felt like I should write about military law and military justice because I came from this background of having been in the military and having studied military history. I was adding law to it. There wasn't much critical work that had been done in terms of military justice. It seemed like fertile ground.
As it happened, all the post 9/11 wars brought so much more relevance and publicity to military legal things, the military commissions, the prosecutions of American soldiers for wartime atrocities, and other things. Plus, the "don't ask, don't tell" piece of this and the discrimination against women in the military, which I had witnessed to some extent and certainly ended up being part of some of the responses.
I was at Cheyenne Mountain during the Tailhook fiasco of 1991. That was the same time the Anita Hill and Clarence Thomas hearings were going on. There was a lot of attention during a time when I was thinking about academic topics and my own potential impact and direction. I became interested in the impact of sexual violence and sex discrimination on the LGBTQ community, people of color, and women. I also became interested in military justice and how the gender norms of the military, the emphasis on conformity that I mentioned before, discipline, and good order played out in the realm of the prosecution of crime in the military.
I wrote a dissertation on it and had a job as an academic. I then had a platform to be able to think and write about that. That's one of the real gifts of being an academic, a full-time faculty member, at a university because you have that chance. A part of my job I also always thought about was trying to influence the direction of the law, the policies out there, and areas I sought to understand. I had a chance to do that and testify before different commissions and hearings. I was grateful for that. That led to some of the panel roles you talked about, which I'm glad I had a chance to do.
I have to point out that I was not successful [in swaying the panel members to my view] in the first panel. It was one of the panels to look at sexual harassment and sexual assault in the military and to recommend potential changes. I very much thought that the military should remove commanding officers from the position of responsibility for charging decisions in criminal cases, especially sexual assault cases, because it's so difficult for commanding officers who are concerned about the reputation of their unit. Also, the reputation of the military and the branch of service itself decide whether or not to prosecute somebody.
I thought it should be in the hands of someone independent. I lost 7 to 2 on that. There were nine members of that panel. I got one other vote, which was Harford Ryan, a great prosecutor from the State of Virginia. The rest of them, I couldn't slay. I wrote a dissent but [the legal process] has since changed. In 2021, one of the military justice reform pieces changed. It's not because I did anything. I heard about it after the fact. Sometimes things get there.
You are not used to losing.
I wasn't even close. It was 7 to 2. I couldn't get any of the others. They were all nice to me. They seemed to like me but I couldn't persuade them.
Beyond that shift that the military has made since then, do you feel like they are making progress on these topics?
I do. I also think it's uneven and fragile. It's all progress towards greater recognition of the chaos of humanity and the ways people are different and can contribute in different ways. I worry about backsliding but there has been tremendous progress. Being complacent about it would be a mistake but to pretend that it hasn't changed would be wrong. It has changed a lot. It's much better for women, people of color, and folks in the LGBTQ community. Trans service is a big issue. It continues to be maybe the most tussled now. It's difficult to successfully argue the protections and the openness that should be out there but we've made progress.
If you go back to when you and I were in ROTC and the military itself, people had a mixed view, at best, of the military. It wasn't all that long after Vietnam. There were certain campuses where you would get told that you shouldn't wear your uniform on campus. You needed to carry it with you and change into a bathroom when you went to your ROTC classes. 9/11 changed that because the population of the United States did a massive turnaround on how they viewed people in the military. That largely continues to this day.
One of the consequences of that is that people in the military felt like they had more of a platform to be able to talk about things. I think about PTSD and the impact that those wars had on the mental health of so many people. That was true back in Vietnam but it got buried. On a lot of these social issues, the fact that the people of the military are in a different place from the broader population of the United States, they have been able to accomplish more social progress as a result.
That's a great point about mental health, mental illness, and the way wars specifically tend to play into that. World War I was not like the Vietnam War. It's elevating an acceptance of mental illness as a consequence of trauma. You are right. Post-9/11 wars had an impact there too. The military is understanding an openness to the range of different mental consequences of the situations in which troops changed the way civil society works.
Coming back to your academic time, you moved out to UC Hastings. You were a Provost and Academic Dean in addition to teaching, and then you moved to Mills and became President. What's it like to be in a leadership position in an institution of higher education?
It's not for the faint of heart. That's true for all leadership roles. The responsibility to make decisions about what's going to happen in an institution that employs and serves a lot of people, in this case, students, always brings up a lot of scrutiny and stress. It's a gift to be able to lead a campus. I know I have fond memories of the campuses that I have been on in the past, whether I was a student there or passing through.
Campuses feel like a refuge. It's like a place of inspiration. It has been an awesome thing to be the President of a college. It's a big responsibility. The biggest thing I needed to do was continue to look ahead and make sure that we were prepared for what would come next, which is what the key is to be a successful leader in a lot of different organizations. People will do the work of the organization. I'm not doing that when I'm here. I have done various substantive things. Primarily, my goal is to look ahead and try to anticipate, prepare for what might happen next, and listen to what's going on.
It has been great fun. I have more in common as a college President with other people running organizations than I do with faculty members. It's a different thing to run an organization. I needed to respect and understand a lot more about people and how people work. How that thing makes us human, masters of the planet for good or ill, is that we can work and try to help people work together to better pursue the mission and serve the people we are trying to serve. That's been great fun.
Faculty are not easy to work with as constituents nor are alums, more generally.  Sometimes they remember a college that never existed. Sometimes they are more sure they understand what's happening than they are. It's taught me a lot about the importance of communication and trying to find ways to meet people where they are and help them understand why we were making the decisions that we were, even when they disagreed with some of them.
I've always thought being a university or college president was right up there in terms of a very difficult leadership position. You've got all the constituent groups. The kids are coming there during their formative years and doing things that kids do to get into trouble and make life not easy on the leadership and administration of the university. You've got their parents who are forking over a lot of money to send their kids there.
You've got the faculty who have their own views about how things should be run. You've got to raise money. It's a tough job. You had, on top of that, a difficult process to go through in terms of, ultimately, navigating the integration of Mills into Northeastern University. What was that like for you going through the process?
It was grueling and incredibly eye-opening. I learned so much. I realized as I went through that process that I had learned an entire vocabulary that I didn't know before, including when I was the President of a college that was operating perilously but continuing to operate during the move into merger conversations. There were lots of lawyers, financial analysts, and crisis communication managers. We needed to stay focused on what our ultimate goal was and find ways not to be deterred from getting there once we set that course.
The management of the board through that process was also something that taught me a lot. The college belongs to the trustees if it belongs to anybody. They are the ones entrusted with ensuring the mission of the college can continue, the resources are stewarded, and the students are served responsibly. Bringing the board with me was a big part of that too. I spent a lot of time with our board, trying to make sure that they had the information and the confidence to make the decisions I was asking them to make.
That brings us to now. You have been a driven person since the day I met you back when you were 17 or 18 years old. Would you say that you have been driven in your career itself?
Yes. I saw that in the questions that you wrote. I wouldn't think of myself necessarily in that way but I don't disagree. I've always wanted to move and get to the next thing. I have been impatient. That has been sometimes to my detriment. I don't always take time, slow down, and fully realize. For instance, when I was an undergraduate at Duke, I never studied with one of the great women historians who was at Duke. I never took a class with her, even though my second major was History, because it didn't fit. I wasn't paying enough attention. You miss things at different points in your life by moving quickly.
Likewise, I could have written a better dissertation if I had taken more time, but I did it fast. I have been wanting to get onto the next thing. I have been more comfortable with what it would be like if I were running things than if somebody else was. I've often ended up in those leadership roles because of that, and I felt like I could do it, if not perfectly, better than most other people could. I didn't want to get stuck. I always wanted to get on to the next thing.
Do you feel like, at this point, you know yourself well enough to know what you want to do professionally? Has it changed over the years?
It has changed. It changed because the biggest problems out there have changed. I wanted to come to Mills for a lot of different reasons, partly because it was in the right location. I had a blended family. My wife was here. Our kids were here, and their other parents were here too. I wanted to stay in the San Francisco Bay Area, and the chance to go to Mills as a place to get another leadership opportunity and have a chance to make a difference - that fit for me. The context matters too. Now, our kids have mostly gone off to college. Joey is still in high school, but the calculus has changed now. I also wanted to go to Mills because educating women was one of the UN's development goals, the education of girls and women.
It changes the world for the better to educate women and view them as fully realized and able to contribute in all the ways that other people can. I love that about Mills. Also, Mills was already educating a racially, socioeconomically, and ethnically diverse group of students. I thought that was what educational institutions of the future should look like, although they hadn't always been during the time that I was attending them. It's not that I think that it's not a problem now. The climate catastrophe and reckoning with the harms of the past are things that we have to reckon with together to move ahead.
To me, going to the National 9/11 Memorial & Museum is a chance to work with incredibly dedicated, accomplished people who have managed to rebuild in the face of unimaginable loss. Many from real estate and finance communities that have contributed to that effort have navigated complex political and economic waters in a way that we are going to have to do moving ahead in order to solve the big problems that we are leaving to our kids and our grandkids.
My sense of what the problems are has changed. I have accepted that probably what I should do is this thing. I don't think I'm going to go back and teach History again. I love teaching History and was a pretty good History teacher. I was not a great historian. I'm not going to change the narratives of history with the research that I do. I don't think I will spend a lot of time in archives in the future but I've learned more about what I can and enjoy doing all the time.
You are at a point in your career where you can have a different level of impact. You talked earlier about having a platform when you are a faculty member at a university or college. There's some truth to that but you are still largely limited by what you can conceive yourself, get into your research, write about, and talk about. You don't get that multiplier effect that you get when you are a leader of something bigger.
The education of girls and women has changed the world for the better. They are fully realized to contribute in all the same ways that other people can.
Click To Tweet
If I had the answers, I would have fixed the things I could have fixed. It's so much more complex than that. Think about the response to the pandemic. We knew what the answers were and didn't manage to communicate them in ways that changed people's behavior and the ways that would have been the most protective of public health.
What are the strengths you have been able to draw on again and again in these many different things you've done over the years?
A lot of people helped me. That's a good thing. For whatever reason, people are willing to help me. That always makes a big difference.
You have won people over since the day I met you. That's why I can't believe you lost that vote 7 to 2.
I never had a chance. I have been in those situations where people come into a conversation and are just set in terms of their view. You can't always change that. I have been there where you can't win people over. I realized that my psych profile helps me in these jobs. I remember when I was at Hastings, which is no longer called Hastings, by the way. It's called the College of Law San Francisco because of the genocidal background of Serratus Clinton Hastings, whom the school was named after.
There was a student who asked me right after I became the provost and academic dean there. He said, "Professor Hillman, what keeps you up at night? What are you most worried about now that you have this job?" I remember I said to him, "Nothing keeps me up at night about this job because if the stuff about this job kept me up at night, I wouldn't be the right person for this job." I think I have a psych profile and was being relatively honest.
Things have kept me up at night at different points in time - professional, personal things, world things, and all the rest that bothers everybody else, but mostly, I can let things go. That helps because if I retained more of the pain, duress, challenge, and disappointment that happens around me, I wouldn't be able to keep going. That has helped me.
Being able to let it go is a skill. What have you worked on developing over the years?
I've realized it's much more important to listen. The more I can listen in a meeting, the better the meeting goes and the better it is for the people who are in the meeting with me. I like framing things for folks. I like being able to put a conceptual spin on things that help people understand. I am good at that. Listening is the thing that matters the most to people.
What do you look for in people that you surround yourself with professionally?
I'm so particular, honestly. I love to be around curious people. I like people who don't give up. I liked the intensity of trying to understand. I can do the small talk stuff you need to do sometimes. Life is short to not go deep. We did that from the start when we were in college. That's how we became such great friends so quickly because it was suddenly serious. You get to talk about things in a pretty intense way.
You've talked a little bit about people who've helped you along the way. Who stands out for you over the years that have helped you get to where you are now?
There are so many people that I could mention there. My family has mattered tremendously. My family of origin was supportive. I have a twin sister who's a fabulous person, smarter and nicer than me. My parents were supportive. My brothers are complicated but also taught me a tremendous amount. I love them dearly too. My brother, Chris, continues to be a tremendous inspiration to me. The people who I learned from the most are the ones who made me see things that I couldn't see otherwise. There are people that we met at Duke who had traveled. There's you and your terrific grades. I was like, "We can actually get grades like that." Somebody I know can get perfect grades.
Seeing people do things I didn't realize were possible made a tremendous difference to me, even if I didn't do them because I knew it was possible. I knew that person and something about who they were, and they were able to do it. Drew Faust made a big difference to me. She was teaching at Penn when I went there. I was initially assigned to a different Master's thesis advisor and ended up switching to Drew. We stayed close over the years. She went on to be President of Harvard and did tremendous things. That makes things seem possible. There's not a cap in the upside that would keep you from being able to continue to move ahead.
That's continued to happen for me over time. Michael Wagner, a classmate of mine who passed away, he opened my eyes. He'd traveled the world. My second major at Duke was History to go with Electrical Engineering. His second major was Russian. He could do anything, and yet he was down-to-earth, curious, intense, and all those things in ways that I had never encountered before. It's those people who helped me see more that made it tremendous.
The years when he was living in Africa and the places he would travel amazed me. I'd see his posts and updates on Facebook. It was always amazing the broad variety of experiences he had and how much traveling he was doing. He was one of those people that I looked up to in terms of their ability to be truly of the world.
Any final career or leadership thoughts you want the audience to take away?
It's good to connect with you again, JR. That has been a gift for me in this conversation. As I think about this interview, my time in the Air Force Academy was a little bit of a deviation from what I should have been doing. I'm not sure that I should have been cooling my heels in PhD and JD programs for as long as I did because I have been able to do more outside that academic realm. I don't regret it at all, though. I learned a lot.
My career had a lot of zig-zags. I'm all over the place in what I've done in many ways, but it has always felt authentic and true to me. For me, the most important job I've always had has been the one that I'm in because being successful in the job I'm in now has given me the opportunity to do whatever I wanted to do next. Losing sight of that is a risk as you start to look ahead sometimes.
It goes back to the point you made earlier. Sometimes you look ahead so much that you lose focus on the present or appreciation for the present.
I've become more appreciative of things as I've gotten older too. We were talking about a loss right there with Mike passing away too young. You never know how much time you will have. Every day is a gift. I appreciate that more and try to celebrate those small triumphs and things that come along when you can celebrate them, because it's worth it to let the people around you know that what they did matters too.
Beth, thank you. It has been great knowing a little bit more of the color and some of your zig-zagging over the years.
Thank you, JR. Good luck to you. I appreciate the chance to talk to you.
Good luck with the new job when you start.
---
It was great reconnecting with Beth and getting a chance for her to share her impressive career journey and her learnings along the way. If you are ready to take control of your career, visit PathWise.io. If you would like more regular career insights, become a PathWise member. It's free. You can also sign up on the website for the PathWise newsletter. Follow PathWise on LinkedIn, Twitter, and Facebook. Thanks, and have a great day.
Important Links
About Beth Hillman
Beth Hillman is the President and Chief Executive of the National 9/11 Memorial and Museum in New York. Beth started her career as a US Air Force officer. Her first assignment was with the North American Aerospace Defense Command, better known as NORAD.
Following that assignment, Beth served as an instructor at the US Air Force Academy for several years before leaving the Air Force and moving into the civilian world. She'd earned a Master's in History at the University of Pennsylvania while in the Air Force and went on to earn a law degree and a PhD in History at Yale.
She then moved into academia, teaching law at Rutgers before becoming Provost, Academic Dean, and Professor at UC Hastings. Along the way, she wrote a book and co-authored another on military justice. Beth was named President of Mills College in Oakland in 2016, a role she held until the merger of Mills into Northeastern University earlier in 2022.
Beth is an active advocate and volunteer, focusing on education, civil rights, and social action. She is a recognized expert on military law and on sexual harassment in the military. She currently lives in Oakland with her wife, Trish, and blended family of 5 mostly college-aged children. They'll be transitioning back to the East Coast for her upcoming job.