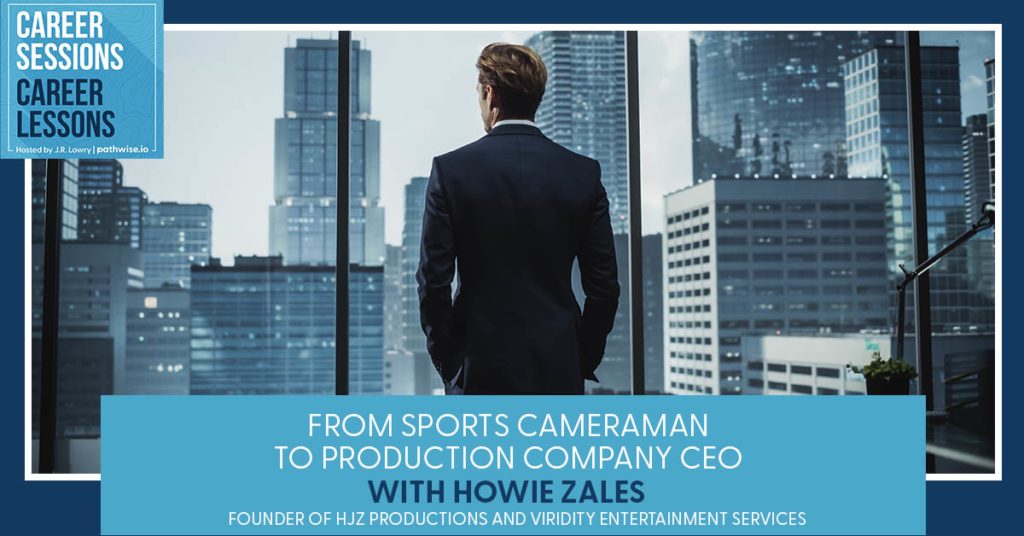 From Sports Cameraman To Production Company CEO, With Howie Zales
"If you let everyone in the universe know what you want, somehow, someway, it will come to be." Howie Zales is proof of this, landing his goal of shooting television sports and eventually starting his own production company. He is an Emmy Award-winning Camera Operator who turned his passion for television broadcasting into several entrepreneurial endeavors. In this episode, he sits down with J.R. Lowry to take us across his journey from sports cameraman to the Founder of HJZ Productions and Viridity Entertainment Services. Howie recounts that serendipitous moment that pushed him towards sports, why it appealed to him, and the memorable sports events he has covered. He also shares his work with bigger nonunion markets and how he pivoted his company into a full-fledged livestream and event company. Tune in now to get a behind-the-scenes look at sports events, right through the eyes of a camera operator. Let Howie's insights and experiences guide you!
Check out the full series of "Career Sessions, Career Lessons" podcasts here or visit pathwise.io/podcast/. A full written transcript of this episode is also available at https://pathwise.io/podcasts/howie-zales
—
Watch the episode here
Listen to the podcast here
From Sports Cameraman To Production Company CEO, With Howie Zales
Founder Of HJZ Productions And Viridity Entertainment Services
PathWise is dedicated to helping you live the career you deserve, providing career coaching, content courses, and community. Basic membership is free. Visit PathWise.io online and join. My guest is Howie Zales. Howie is an Emmy Award-winning Camera Operator who turned his passion for television broadcasting into several entrepreneurial endeavors. He created HJZ Productions in the year 2000 to address the need for professional-level sports crewing and staffing in the New York market. Under his leadership, the company grew to a multi-million dollar nationwide provider of top talent in the broadcasting field.
In 2019, Howie and his team founded Viridity Entertainment Services, which initially focused on staffing in non-union markets. With the onset of the COVID-19 pandemic in early 2020, they quickly pivoted to offering best-in-class broadcast-quality livestreams of professional sports shows and interviews, corporate interviews and meetings, and religious services. In addition, Howie took his love of the television production business and created The TV Sports Course, a hands-on training bootcamp for the next generation of television crew professionals. Howie is a graduate of the State University of New York at Plattsburgh's Mass Communication Program. Howie, welcome. Thanks for joining me.
Thank you, JR. I'm honored to be here.
Let's start with the beginning of your career. You started as a camera operator. When did all that start for you? What were some of the early things that you worked on?
I graduated college in 1994, and I pounded the pavement in New York City. I tried to find anywhere that had "whatever production" listed as the company name. I found a job as a production assistant and made my way to a camera operator eventually. Sports was my goal. I took a job eventually shooting news. I didn't know how to get into shooting television sports. I put it out there in the universe, and I'm a true believer in that. If you let everyone in the universe know what you want, somehow, some way, it will come to be.
One day in the newsroom, ESPN was doing a University of Vermont basketball game. The place I was shooting news was in Upstate New York. One of their camera operators got sick at the last second. In desperate need, they called and said, "Do you know anyone that could fill in?" Everyone knew that's what I wanted to do, and the news director recommended me. That was my first job. I met the right people. One job became another job to the point where eventually, my news job was getting in the way of me freelancing doing TV sports.
I love stories like that where you're in the right place at the right time, but you've created the circumstances for that. Everybody knew what you wanted to do. They knew who to give the opportunity to when it arose. It's fun to hear stories where serendipity worked in your favor and launched you off on something that you'd been wanting to do. Who won the basketball game?
I have no idea.
I thought you'd remember it. It's like having your first dollar up on the wall.
I do know that I carried a piece of cable from the TV truck into the arena and ran it backward. That happens one time in one's career.
You learn not to do that again probably for your career longevity as well as for your back. You were pretty much in, other than doing the early news work, which I assume was up near Plattsburgh. Since then, the shift to sports happened relatively quickly for you. What was it about wanting to film sports that appealed to you?
I wanted to play professional baseball growing up. I did everything I could to play baseball, hit clinics, and everything, but I knew I needed a backup. I needed one class in eleventh grade, so I chose this elective. It was a TV production course. It was a trip to NBC Studios in Rockefeller Center, a tour of the studios. Also, to watch a show being taped live. How bad could that be? I fell in love with TV production. I already love sports. What better way to combine the both for a career?
I remember I was about twelve. I went to watch the taping of a sitcom. It was a terrible sitcom. I don't think it ever got out of the initial buy of four weeks or whatever they did. We went to see it when we went to visit some relatives out in California. It is so cool when you get to watch the scenes being set up, the takes again and again until they get it right, and the audience. This probably was a laugh track, although we were laughing a little bit, but I'm sure the show had a laugh track.
For me, it was a cool experience. It wasn't the direction that I chose, but I've always appreciated the magic that goes into filming, especially a live event and the lack of room for error that you have in terms of how you do it. You've done a lot of sports over the years. What are some of the sports that you've covered? What are the main sports you've covered?
When I first started out, I started out doing local sports in New York and New England, anything from Celtics to Bruins to Red Sox to mostly Yankees, Mets, Rangers, Knicks, and Devils. I did a horse race for a third-party company, but it aired on NBC from Belmont Park, which is in New York City. NBC sent their biggest director who did all of their football and all their big-time sporting events. I busted my butt. I did a good job. I did everything he asked for plus more.
After the show, he came up to me and said, "We're starting this new football league called the XFL." This was in 2000. He said, "Would you be interested in being a camera operator?" I said, "Of course." He said, "Why don't you come to Notre Dame?" NBC has a Notre Dame football contract. "We'll test out your football skills. If you do a good job in a game or two, then we'll invite you on a package." Long story short, I shot XFL that year. I did Notre Dame football for many years. I traveled around the globe with NBC Sports for over twenty years doing the Olympics, Kentucky Derby, Preakness, and Belmont Stakes, so many different shows. I traveled with the World Wrestling Entertainment or WWE around the globe doing all of their shows and over twenty WrestleMania, which is their signature event.
As a big sports fan, I'm pretty envious. I've dressed as a member of the band to get into a college basketball game, but I've never done camera crewing. You've won at least one Emmy for the work you've done. What was that for?
For the Beijing Olympics, gymnastics.
You've got that on your resume, which not a lot of people can say. When you go to prepare for an event, most people think of you there with your camera, but what goes into the preparation for you as a camera operator and part of the production crew?
We're trying to tell a story to the viewers at home. The announcers are telling a story through their words. We're supporting the story the announcers are telling with our pictures. If the announcers are talking about Aaron Judge from the New York Yankees, we have to know immediately what Aaron Judge looks like, what number he is, and so on and so forth. If it's a football game and they're talking about the offensive coordinator, and he's up in a box, we have to know what he looks like, so when they're talking about him, we can get a shot at him. We have to be prepared with the knowledge of who these people are, what their numbers are, what they look like, and what significance to the story they have that we're trying to tell.
In live sporting events, pretty high-pressure situations, how do you keep yourself calm and focused during those events that you're crewing?
It's just another event. Most of us have done it a million times, even the Super Bowl. The Super Bowl is probably one of the biggest events on the planet. As soon as that whistle blows and the ball is kicked, it's just another football game with a longer halftime.
Do you not get caught up in the action when it's a particularly close gripping sporting event?
Only if that action comes very close to hitting me. I've wound up in the hospital three times with three separate concussions on the sideline, 2 from football and 1 from baseball.
What happened in baseball that you ended up with a concussion?
The Mets were playing at Shea Stadium at the time before Citi Field was built. I was doing a camera on the third base sideline. The Colorado Rockies Dugout. There was a runner on second. In baseball, you have different assignments depending if it's a righty or lefty batter up and depending on where the lead runner is on base. It was a right-handed batter-up. That means I don't shoot the batter, and there was a runner on second. My responsibility was to shoot the runner on second because if there was a hit, that means I'd have to take him around to score. You're always watching the pitch, should there be a foul ball or anything. I'm watching the pitch. The next thing I know, I'm in the hospital.
Joe McCune got out in front of a curve ball or an off-speed pitch totally in foul territory, and it hit me. I fell into the Colorado Rockies Dugout. The funny part of that story is because they were attending to me in the dugout, the game stopped. The pitcher kept walking around the pitcher's mound. When I got hit, it jerked the camera from second base to the pitcher's mound. They used my camera three times, and I'm half dead on the ground in the dugout. On the fourth time that they used my camera, because they were still working on me, the pitcher walks off the pitcher's mound onto the grass, and I didn't pan with him. They're yelling at me, "Camera five, pan." As they're yelling at me, it gets back to our TV truck that it was me that was hit.
They didn't even know that you were hit until then. That's wild. Nobody else saw it. Not any other people on the crew saw it other than you.
The other camera people on our show didn't realize it, but I was standing next to another camera operator who was working on a different feed because there were always several feeds that were going on. It was by the time he relayed it back to his TV truck, and someone ran out of their truck into our TV truck. It all happened slowly.
For the most part, the people who are working as camera operators during a big network sporting event on TV, are they freelancers or employees of the network?
Freelancers but paid as employees.
I assume most of the networks, it's all union people.
Yes.
I know you've done some work in non-union markets. What are the bigger non-union markets that you've supported?
We don't do too much non-union stuff. We have two companies. Our first company hires union TV crews. Our second company, pre-COVID, was started to support our clients who are traveling in people from that travel with their show every week. We were going to take on the burden of payrolling them, getting them up to speed, harassment, and workplace harassment. We are helping them to abide by New York state law. COVID hit, and it shut everything down.
That was the end of the non-union work that you were doing.
We pivoted that company into a full-fledged livestream and event company. That's what our primary focus is on now. It's livestreaming virtual and hybrid events, whether it's corporate meetings, sporting events, concerts, or cooking shows, anything.
I interviewed a live-streaming company out in the California area. He was previously doing ticket resale. He had a ticket resale platform that's similar to your story, completely dead in the water when COVID started, since there were no live events. I have to imagine. Even for a lot of live performances, he talks about it as going beyond the four walls. You can now do all these events that used to be constrained by how big the venue was and how many tickets you could sell. Now, you can sell tickets for the venue, but if you choose, you can also sell livestreaming of the same event for people who can't go to the venue. Is that a big part of your mix, or is it more pure livestream events?
We livestream events where there's an in-person audience, and we create the in-person and the virtual experience. We can do anything. We've done where it's fully virtual or where everyone's in their home or office. We've done a round table talk or a four-person interview and everyone's fully virtual. We have an in-person audience and thousands of people watching globally.
I wonder how much this will all change in terms of these hybrid events with the live and in-person audiences. It's something certainly that's probably a lot more artist-willingness to do.
It's in its infancy. It's only going to become more popular. If you drop talking strictly corporate, it's less expensive than traveling everyone to one location, especially if we're talking international companies. You can still get the message out the same exact way. People are more productive because they don't have to leave their home area where they're living. Also, it costs a company less money with hotel rooms and flights.
If it's sporting events that are live-streamed, you can get some of the lower-end sports live-streamed because it's less expensive than putting it on TV. We can bring certain equipment to a smaller truck in a field event and put that on a livestream. It costs 1/3 of what it would cost to do if you brought in a TV truck and a full TV crew.
Why is that?
We can livestream over the internet to any network with less equipment and without a TV truck. A TV truck, depending on the size of it, could be $20,000 a day. A streaming computer, you can rent for $2,000 a day. You would need the cameras and stuff, so it'd be a little more piecemeal, but still would be less expensive.
How has the technology changed? You've been doing this for many years at this point. Clearly, we've got digital cameras, 4K, and all of the advances in terms of resolution, but how else has it changed?
The changes that you ask about only came into play in the last few years. The cameras and lenses still weigh the same. It's not like anything's gotten any lighter. The big changes are in cloud production, where instead of having a full TV crew show up on location, people can work from their homes. In the same way it has affected a lot of the corporate world, it has changed the way we do production in the cloud.
Will there be a logical next step to where more of the cameras are pre-positioned and controlled remotely so that even the camera operators aren't local that's all being done from a central location as well?
There are a certain amount of robotic cameras on each show. Those robotic cameras can only be in certain locations, but it's very rare. I do not think most camera positions will be replaced by robotic cameras. You just need a human and you need the style of camera to be able to do what they currently do. No robotic camera that exists now can take that place.
Most camera positions will not be replaced by robotic cameras. You just need a human and the style of camera to be able to do what they currently do. No robotic camera that exists now can take that place.
Click To Tweet
I would imagine your ability to see the broader event.
Also, the way we operate. If you're doing a handheld camera or one of the big studio cameras, you're always looking out of your viewfinder this way. I always did a handheld camera, so I'd always shoot with this eye open to see what I can be seeing or shooting. You can't do that in a robotic camera because you're looking at a monitor.
When you're doing the events that you mentioned a little bit ago of trying to create the production of both live and virtual experiences, are you doing a lot of specific things to create a more immersive experience for somebody who's watching virtually?
If we're doing a corporate event where there's a PowerPoint presentation, we'll have monitors or screens in-person and we'll project those screens in person. If you're there in person, you don't need to see the speaker on the screen because you're watching them. In the virtual experience, we'll create an entire TV show and have a camera shot of the person talking. We'll then take the PowerPoint presentation in full. We'll have a two-box where it's a little box of the person speaking on the right and then a bigger box on the left of the PowerPoint presentation. When they give us the cue with the clicker we provide, we change the PowerPoint. We cut back and forth to make it more interesting. We just don't sit on one shot the entire time.
How about some of the more advanced things that people have been trying? Certainly, the whole 3D thing came and went in the television era. I guess it didn't take off. Are there other things that you feel have a chance of becoming more common in creating that different home experience, like sitting in front of a box and watching the TV?
In terms of sporting events?
Sporting events or anything else, just to make it feel more like you're there. I know there have been things letting you pick which camera angle you see.
That was there for a while. It didn't last. I feel like people are doing too much at one time. For so many different choices like that, a lot of that stuff is a bit of a gimmick.
I wondered whether people were going to sit in front of their television next to each other on the couch with goggles on. I had a hard time seeing that one, but I can appreciate that even picking your own camera angle, it's work. I just want to watch the sporting event.
The other problem is that, as a camera operator, you know when the director is using your camera because you get a little red light on your camera. When you're off, you're moving around, trying to find your next shot. That could be very annoying at home if you're trying to pick your camera angle when the camera stays put for five seconds, and it's moving around again. It's a gimmick.
More sporting events lately have been on streaming services, at least a little bit. Amazon is picking things up, Apple and others. As a crew member, does that have much of a difference for you, or is it pretty much like we're just shooting it and broadcast in a different way?
Pretty much.
Talk a little bit about the production company work. We've covered a little bit of that, but what are some of the other things that you do? What led you down the path of wanting to start a production company?
I always thought I should have a backup to being a camera operator. What that backup plan was, I didn't know until a friend called and said he needed help finding some TV crew and asked if I would help him. I'm like, "Sure." I did. He said, "Can you send me one invoice and pay everyone for me?" I'm like, "Absolutely." That's my business idea. It grew every year. Once we hired one person, it grew a little more. We scaled a little more once we hired another. It was one person to take care of all the business side of the business. It's to the point now where I don't even do camera work anymore. I just work on the two businesses.
Do you miss the camera work?
I miss the people that I would see because my friends are scattered around the country. My camera work for many years took me on the road. I didn't work in local sports anymore because I worked with NBC in World Wrestling Entertainment. I traveled 4 to 5 days a week. It got to be difficult.
I would imagine as well that there are situations where you're operating a camera that's got a platform that it's on. When you're sitting on the sideline of a sporting event, a basketball game, or whatever, and you're holding the camera, I would imagine it takes its physical toll too.
I've had 3 back surgeries and 3 concussions. It took its physical toll, but I loved it.
The production company you're operating is pretty much all over the country. How big is the core group in the company that manages all this with you?
There are three of us.
It's a pretty small core group that's able to essentially do all of that payroll, training, and all of that.
We have 700 as-needed employees.
That's great leverage for you. The fact that you can operate the 700 people with just a three-person core team. What have been your favorite events that you've done over the years?
Definitely the Olympics, Kentucky Derby, and WrestleMania.
I had this very funny event one time while living in London. I was coming out of an event with a bunch of banking people at The O2. I'm sure you've been to The O2 at some point in your life. You got all these people walking out in suits from this event during the day that they do at The O2. That night's event for the evening was a WrestleMania event. I was laughing, walking out the door, and thinking like you could knock at two more different groups of people crossing paths coming out of and into the O2 that night. I didn't even realize that the WWE traveled that much internationally until seeing the big crowds coming in for that night at The O2.
I was probably there.
This was probably years ago. How about livestreaming? Is that taking off in that post-COVID run-up?
Livestreaming first started by doing fully virtual productions. We would work with a lot of athletes like Charles Barkley, Magic Johnson, and Tiger Woods, just to name a few. We have twenty contributor kits we call them, where they're high-end gaming laptops with webcams, professional USB microphones, ring lights, and ethernet cables. Since they're our computers, as soon as they hit the internet, we can dial into the computer, focus the camera, change the color temperature to the camera, and control the audio. We then work with whomever we're working with to make sure that the camera shot is good. With our clients, we help create a full-fledged television production where everyone is completely virtual. Now, we still do those productions, but we also moved into doing hybrid or in-person events.
They just ship everything back to you afterward.
Yes.
It's a big change going from being a camera operator to running your own company. When you think back to those early days of being essentially a solopreneur, what surprised you the most about running your own business?
I never thought I would be doing anything other than being a camera operator. That surprised me the most. I made the mindset change that I was a camera operator with a business on the side. I made the mindset change in becoming an entrepreneur that shot cameras, and now I'm fully an entrepreneur.
What were some of the mistakes that you made in those early days as an entrepreneur running your own business? Do you remember anything in particular from back then?
Lots of them. I was a camera operator, so one of my biggest mistakes was not having help. I was trying to do everything myself. When a client would call and say, "Can we cancel this position? We overbooked by one," I'd say, "Okay." Without being in the proper location, I write it down or take a note. It would cost me a lot of money because I would forget to cancel the person, and they would still show up. My client would say, "We told you to cancel that person," so how do I charge?
As a camera operator, one of the biggest mistakes is not having help.
Click To Tweet
That's an expensive mistake to make in your early days.
I had to find a way to not speak to clients, take calls, or manage it in a different way when I wasn't prepared or in the proper place.
That happens to me all the time too, where you take a call, or you get an email, you aren't either physically or mentally in the right place. You just forget to follow up on something in the way that you should. Are there a lot of companies doing what you're doing in terms of having a roster of production crew that you're able to deploy out to different events?
Maybe one in major markets, and then there's one bigger company nationwide. There are companies that do what I do in other big markets across the country.
What do you do to set yourselves apart?
How I try to sell ourselves as what you get different with our company is there are three of us on a core team. If you have a question about the crew, you get me. If you have a question about the invoice or the billing, you get Lori. If it's an HR thing, it's Jen. That's it. I'm the one that makes the final decision on who goes on what show. I know everyone's skillsets. It's not like I'm calling people that are in a different state, and I don't know who I'm putting on shows. I do my best to give the director and producer the best people that are available. We like to say we're a small company and we give personalized service.
You're doing some teaching as well.
When I told you about that first job, I met a lot of good people that mentored me. I always had mentors throughout my career at every stage, whether they were fellow camera people or directors. I wanted to pay it back. We developed a broadcast sports course and wrote a manual on what to do from the second you park your car at the venue to what you would have to do the second you got back into your car at the end of the night. I also included that manual as to what your job responsibilities were if you were a utility or an audio person. If you're a camera person, how to shoot baseball, basketball, soccer, hockey, or boxing from every camera position in a pretty general format. It's all pretty much the same, but some directors tailor it to his or her own needs. It's all pretty much a formula.
We had a two-day bootcamp where the first day, we provided everyone with templates on how to email clients the right way and what to say. We then provided them with a script of what to say when they were on a phone call with them. We provided them with a list of who the clients are and their contact numbers. We then brought in a lot of the equipment that they would see on-site and taught them how to coil cable the right way. Everyone knows how to build a camera, take it apart, and do it again because a big studio camera comes in about five pieces. That way, the first time they saw it on their first day at work was not the first time they were seeing the equipment.
It sounds like a great course.
Yes, it was great. We were fortunate that we had five people take it the first time. We hired 4 out of 5 of those people to work with us on a freelance basis. That fifth person got a full-time job somewhere in TV production.
You have a podcast too.
We have a podcast called the TV Crew Talk. I interview a lot of my friends in the industry talking about the industry. It's a way to get younger people to get excited about the industry because the age of freelancers is getting up there. COVID forced a lot of people to retire. After taking a good amount of time off of work, they found it difficult to go back. The other reason for starting the course was the age of a lot of the people I was working with getting up there. It's a physical job.
You asked me about my audience before we started. What's your audience look like? Is it all people who are in the industry but also people who are thinking about it?
Yes, exactly.
How often do you do your episodes?
I was doing them every week. Our company got this big soccer contract that took up a lot of my time, so I had to put it on pause, but we're going to restart it again.
It is a lot of work to do a weekly podcast. I can speak from personal experience. What do you think about spending your time more generally? Is there a target mix of things across the podcast, teaching, livestreaming company, and production company? You've got a bunch of different things going on. How do you try to balance your time?
One thing I want to add to that is I want to start speaking on stages at events because I have a lot of good stories, and my path is a good story to help inspire other people. I had a business coach that gave me a lot of good advice. I spoke about the three core people in our business. One person runs each of the two businesses. I oversee both, but I stay in my lane. I only do the 5% at what I'm good at and let Jen and Lori handle the rest.
I try not to get involved in that other stuff unless I'm needed because, frankly, I'm not that good at it, and they're way smarter than I am. I try to get up early, do a little bit of work at the beginning of the day, get a workout in because I feel like that's super important, handle what's needed to be handled as quickly as possible, get to clients as needed, and leave time open for myself and family in the middle of the day or at the end of the day. When it's over, I try to be as attentive to my family as possible.
Apart from the technical skills, you talked about the 5% that you're good at. What are the other things that you're good at from more of a business perspective?
It is knowing how to talk to clients and selling our business without being salesy. I'm not a good writer. I'm a better verbal communicator over the phone. I'd rather jump on a quick Zoom call or telephone call than exchange emails back and forth. If it's an important email, Jen, my wife, our COO, proofreads everything. That's our protocol.
What have you had to work more so to develop as a skill?
Learning how to do Excel spreadsheets and things like that. When a client needs an estimate, I'm the only one around to do it. If I make a mistake, that could cost money. We had to come up with a system. How is Howie going to do an estimate when no one else can do it?
Is that normally Jen or Lori?
It's Jen in Viridity, the livestream business. Lori is in the other business. We have a lot of systems in place. Either any of the three of us can jump into the other roles if needed. Jen could do payroll and HJZ if needed. Lori can do payroll and VES if needed. Howie can't do payroll anywhere.
I assume it is for the best of everybody. You talked about mentoring at a couple of points in the conversation without necessarily naming names. What are the types of people who were mentoring you? What did they do to help you along over the years?
Ted, a camera guy I met on my first job, helped me get my second, third, fourth, fifth, and sixth jobs. I looked up to him and learned how to shoot sports from him. He helped get me many jobs. There were other camera people that did the same. The director from NBC, John Gonzalez, when I first met him on that horse race, from that time on, he took me on every show that he worked on during his career at NBC. Because I worked on the XFL in 2000, which was a partnership between NBC Sports and the World Wrestling Entertainment or WWE, I met the wrestling people on the sideline. Things fell into place. Someone got let go. I met the right people being in the right place at the right time doing a good job and giving 150%. It led to me getting that job that I stuck with for many years.
It's great that you've had those people who've helped you along over the years. Not everybody's that fortunate, particularly people who take you under their wing and create opportunities for you.
Yes. People can only do so much for you. You have to be willing to run with it. I've paid it back and continue to pay it back to help people launch their careers because this is a hard industry to get into. It's part of it.
You talked about how the people who are doing this are getting older. Are we hitting a point where there's going to be a shortage of skilled camera operators, or is it not quite there yet?
It's not just camera operators, it's every position. Yes, we are there yet. It's audio people, replay people you see, and people that control the video levels of the camera equipment. It's everyone. There's definitely a shortage.
There's an opportunity for somebody who's legitimately interested in the space. You say it's hard to get into it. At the same time, it sounds like there are jobs to be had if you put the time in.
When younger people call me for advice, I steer them on what position to go to based on what they tell me they're interested in. For example, we have 2 soccer games and 3 studio shows operating, which means we have 12 replay people working. If one of them calls in sick, there's no one available to take their spot. Fingers crossed that no one calls in sick or gets hurt, God forbid, or something happens because there are literally no backups.
It puts you a little bit on the razor's edge on days like that. You mentioned wanting to start doing some live speaking. What else is ahead for you in the various aspects of your business that you're in?
We're in the process of scaling Viridity Entertainment to doing bigger sporting events and putting my face out there more as a speaker on stage. That will take some time.
When you look back and think about your career, what do you wish somebody had told you back when you were in your early twenties that you know now?
I didn't realize and I didn't know that doing what I love would take me away from my family so much. I missed a lot of events, and that was the hardest. What I did learn and what I did try to prioritize is family first. I always tell that to younger people because a mentor told me the phrase, "Always put your family first." I live with that until now. I try to instill that in younger people. The jobs will always be there. They'll still come, even though sometimes it's hard to justify it in your head to turn things down. If you're good enough, they'll come.
It's a demanding industry. Certainly, that's the way it's portrayed to the broader public. There's not a lot of forgiveness at the moment for things going on in your personal life. I would imagine that even putting family first is a bit hard in the industry, given the culture that pervades live entertainment and live sports.
Take golf, for instance. There's a golf tournament every single week. They want the same camera operators, same replay people, audio people, and everything doing every golf tournament. Football is a sixteen-week commitment. That's a lot of weeks. It's not one day. If you work on Sunday Night Football or Monday Night Football, it could be traveling Wednesday or Thursday depending on what position you're doing.
Any last bits of career advice that you would want to give anybody reading in the spirit of giving back?
Trust your gut. Follow your heart. What is it telling you to do? If you're not happy doing what you're doing, do some soul-searching and take a risk. Go do what's going to make you happy. There's no sense in going to or doing a job that is making you unhappy there and causing you to be unhappy in your personal life. Life is too short to be unhappy.
There's no sense in going to or doing a job that is making you unhappy in your personal life. Life is too short to be unhappy.
Click To Tweet
That is absolutely true. It is too short. We're all reminded of that probably more often than we would like to be for one reason or another. Apart from that, this has been great and interesting to hear what it's like to be a camera operator. It's a space I knew next to nothing about other than observing camera crews at sporting events that I've been at over the years. I appreciate you taking the time. I'm glad that you reached out to do this.
It's my pleasure. Thank you, JR.
I'd like to thank Howie for joining me. It was fun to learn about his work as a camera operator, his production company, his livestreaming company, his teaching, his podcast, and some of the other things that he's got coming in the future. Clearly, there's an opportunity in this industry for those who are interested and committed. More generally, if you want to take control of your career, visit PathWise.io. If you'd like more regular career insights, you can become a member of PathWise. It's free. You can also sign up on the website for our newsletter. Follow us on LinkedIn, Twitter, YouTube, and Facebook. Thanks. Have a great day.
Important Links
About Howie Zales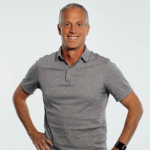 Howie Zales is an Emmy Award winning Camera Operator who turned his passion for television broadcasting into several entrepreneurial endeavors. He created HJZ Productions in 2000 to address the need for professional level sports crewing/staffing in the New York market. Under his leadership, HJZ Productions grew to a multi-million dollar nationwide provider of top talent in the broadcasting field.
In 2019, Howie and his team founded Viridity Entertainment Services, Inc. (VES) which initially focused on staffing in non-union markets. With the onset of the COVID-19 pandemic in early 2020, they quickly pivoted to offering best in class, broadcast quality livestreams of professional sports shows and interviews, corporate interviews and meetings, and religious services. In addition, Howie took his love of the television production business and created The TV Sports Course, a hands-on training boot camp for the next generation of television crew professionals.
Howie is a graduate of the State University of New York at Plattsburgh's Mass Communication program.