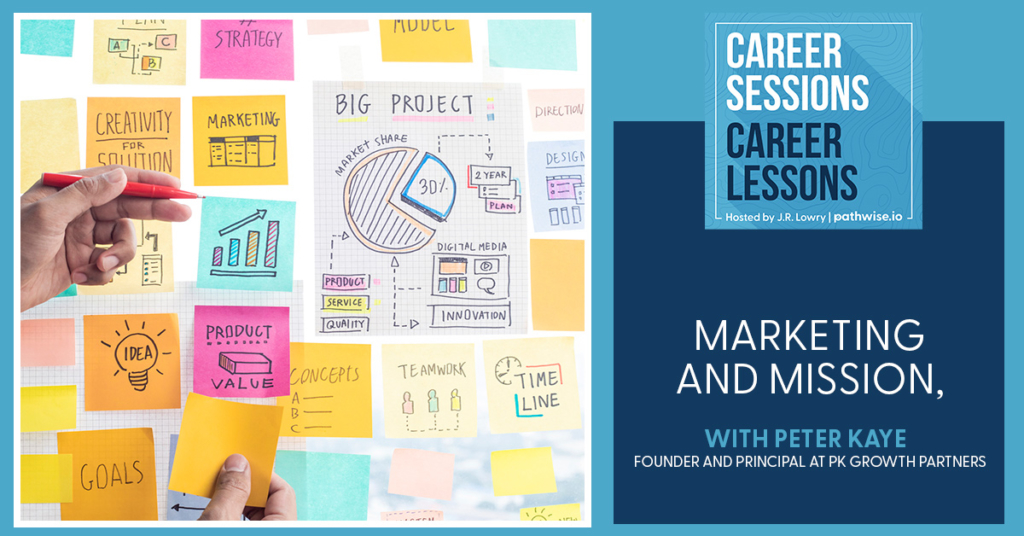 Marketing And Mission, With Peter Kaye
Perhaps nothing could be more fulfilling than helping mission-driven companies thrive and achieve growth. This much is true for Peter Kaye, the Founder and Principal at PK Growth Partners. In this episode, he sits down with J.R. Lowry to share his career journey and how, at the heart of it, he is drawn to helping mission-driven firms to develop and implement profitable growth strategies. Peter has worked with big names like Coca-Cola, Nestlé, Diageo, and Danone. He tells us some of the lessons he learned from that period in his life and how he transitioned toward becoming a Senior Leadership "Player Coach" in his current company. Peter also talks about his role as Chief Revenue Officer, the key measures of success, and the difference between non-profit and for-profit businesses. What is more, Peter shares some great insights on what leadership is about and how leaders can help their organization, both big and small, create a greater impact.
Check out the full series of "Career Sessions, Career Lessons" podcasts here or visit pathwise.io/podcast/. A full written transcript of this episode is also available at https://pathwise.io/podcasts/peter-kaye
---
Watch the episode here
Listen to the podcast here
Marketing And Mission, With Peter Kaye
Founder And Principal At PK Growth Partners
PathWise is dedicated to helping you live the career you deserve, providing career coaching, content courses, and community. Basic membership is free, so visit PathWise.io and join. My guest is Peter Kaye. Peter is an experienced marketing, brand-building, and growth leader with deep operating experience in the food and beverage industry. He is the Founder and Principal at PK Growth Partners, which works with C-level leaders primarily of entrepreneurial and mission-driven firms to develop and implement profitable growth strategies.
His firm is focused on providing interim and fractional C-Suite growth leadership, enabling early-stage companies to benefit from deep experience quickly and affordably without a full-time hire. Peter began his career with classic consumer-packaged goods companies like Nestle and Danone in product management roles. He then worked in marketing and brand management roles with organizations like the Coca-Cola Company and Diageo.
He has held C-Suite roles such as chief marketing officer and chief revenue officer with mission-driven businesses including Honest Tea, the non-profit Share our Strength that runs the No Kid Hungry campaign, a venture-backed "better-for-you" food ingredient startup called NuTek Natural Ingredients, and with Hungry Harvest, and a farm-to-doorstep produce delivery company. Peter serves on several advisory boards of early-stage companies. He earned his MBA from Harvard Business School and his Bachelor's degree from the University of Virginia. He and his family live in the Washington D.C. area. Peter, welcome. It's good to have you on the show. I appreciate you doing this.
Thank you, J.R. Thank you very much for having me. I'm glad to be here.
Let's start with what you're up to. Fill us in.
I run a firm called PK Growth Partners, led by me and I lead all the engagements. What we do is provide growth strategy, development, and implementation. I'm acting as a player-coach for clients, using that sports metaphor. I do strategy projects. I love rolling up my sleeves and also doing the implementation or leading the implementation.
The key offering for what the firm does is providing interim and fractional senior operating leadership, particularly for entrepreneurial businesses and areas that I'm passionate about, which are mission-driven businesses, where I have discovered they need experience. They need experienced operators on their team but aren't necessarily ready to bring someone on full-time. It's to plug and play with a leader who can help them tackle the ongoing challenges that they are facing in their entrepreneurial business. That's the focus of the firm. I launched it in late 2022 and I'm having a lot of fun with it.
What types of clients are you typically working with?
I handle a range of clients. My strength and my sweet spot are with food and beverage companies, given my background working in places like Nestle, Coca-Cola, Diageo, and Honest Tea. Though, I've worked in sporting goods. I'm working with another consulting firm. I'm helping them expand their practice into the food industry. My bread and butter, a lot of my strength, and my network is in the food industry.
I've heard certainly of fractional CFOs and fractional Heads of HR. Are you finding what you're doing as common or relatively unique?
A fractional chief marketing officer or chief growth officer is less common for sure currently than fractional CFOs. I've talked with many to figure out how we can partner, collaborate, and share clients. There are some groups that do it. Boutique firms tend to be larger company focused, so my focus on more entrepreneurial businesses stands out. It all depends on the stage of development. As a company grows in the early stages, it works well. It works well for their PNL. It works well from a headcount management standpoint as they're attracting investors. As they grow and scale, there will be a point I expect when they'll say, "We don't need fractional anymore. We're going to shift to full-time." It's outsourcing before insourcing. That is the idea.
Do you run into situations where they say, "Do you want to come in full-time?" but you're committed to this multi-model that you've gotten yourself into?
I have faced that. To be clear, I'm not doing it for full-time opportunities to emerge. However, as we might talk about it in some other parts of this conversation, being opportunistic and looking for unexpected or being open-minded to unexpected opportunities had been a key part of my career where things have come up that I never would have imagined. If there's a great fit, I like the business, we get along great, and I see the potential, I would entertain it, but that's not why I'm doing it. I'm trying to build a practice where I have a portfolio of 3 to 4 clients that each need me on average a quarter of my time or something like that.
You were a chief revenue officer or chief marketing officer in a few different places before this. Chief marketing officer is a role that probably most people would understand, but chief revenue officer is less common. How did it manifest itself in terms of your responsibilities when you were in that chief revenue officer role?
Titles have morphed in this space over the last several years. In addition to the chief marketing officer, having a chief revenue officer, some organizations have a chief growth officer or chief transformation officer. In my experience, there's often overlap, if not redundancy. It depends on the organization. For me, almost every marketing role I've held over the years has had revenue as one of the key accountabilities or measures of success, and the reason why we were marketing whatever we were marketing.
Almost every marketing role has had revenue as one of the key accountabilities or measures of success.
Click To Tweet
The transition for me to be in a role titled Chief Revenue Officer was not a big deal in the sense of accountabilities. Where it was different or has been different is when there's a strong B2B sales component, which is often what has gone along with that title. That's a little bit different in terms of at one point I had to dig in and learn CRM systems and building pipelines. It wasn't rocket science to figure out but it was new. It was new and different. I was leading teams and leading sales professionals to do that work. My role in a CRO position was to help with the strategy, segmentation, messaging, tools, and communications, and joining sales calls for key prospects.
You've hit on this a little bit, but how did you measure success besides revenue? What were some of the other things that you were held accountable for?
Generally speaking, if I look across most C-Suite roles I've been in for years now, it's revenue, profit, and brand equity. That's particularly when I've had marketing responsibilities. Even if it was called CRO and I had marketing within my responsibility, it's measuring brand health in some way, whether it's awareness, measuring key brand attributes, repeat purchase rates for direct-to-consumer businesses, or measures like average order value. Those were some of the metrics we used to measure our brand health in addition to top-line revenue and profitability.
You were at Hungry Harvest for a while, a farm-to-doorstep produce delivery. This seems like something a lot of people get excited about emotionally. How is it actually running as a business?
For many people, it is a real draw because of the idea of tackling food waste. I joined Hungry Harvest on the heels of working at Share Our Strength, where we fought childhood hunger. We can talk more about that. For Hungry Harvest, it was almost the other side of the coin because there's so much food waste. In Hungry Harvest, like a handful of companies, we're trying to address that by rescuing produce that would otherwise go to waste. They are too big or too small and have imperfections such that mainstream retailers like Whole Foods and Kroger won't accept them, but it still tastes great and is just as nutritious.
We would rescue them and work with them directly to consumers through our eCommerce platform and deliver them to your door. There's the sustainability aspect that many are drawn to. There's the value aspect that many are drawn to because we're able to pass along some significant savings, versus what you would normally pay. There's the convenience of getting it to your doorstep.
When COVID hit, that was great for business. As all of us were at home, not wanting to go into stores, and ordering just about everything we could online including food, the business went up significantly. The challenge that came about was all those consumers that came to businesses like Hungry Harvest and others for the convenience as mainstream retailers up their game with digital ordering capabilities. They either deliver to your door with Instacart or their own delivery or click and collect at the store. The competition went up significantly from big players. That has made the business a challenge.
As chief revenue officer, I joined as the business was starting to face those headwinds. I wasn't there during the COVID positive spike. I was there during the headwind period when we were trying to pivot and adapt. We did some research to try and understand what the consumers want that we're not offering and how to be more competitive, and some fundamental consumer research.
We used the Jobs To Be Done framework from our former Professor Clayton Christensen. We used that framework in the research output. That helped us broaden the product mix that we offered with different produce offerings, different everyday offerings, and things that maybe aren't produce that you'd have to go to the grocery store to get. We're making prepared foods out of the same produce like pickled products, kombucha, pasta, and all sorts of things that we made under our name to make our consumers' lives easier so they don't have to make yet another shopping trip.
We've expanded into wholesale. It's something that we were scratching the surface on. We leaned into instead of a $15 or $25 box of produce to your door, let's sell a truckload to someplace like Sweetgreen to get a lot more scale. I'm not saying we were working with Sweetgreen, but those were the kinds of businesses we wanted to be working with.
How did all that play out?
It's a challenge and it still is a challenge. There are few players. Misfits Foods bought Imperfect Foods from the West Coast. I'm not aware of how they're doing. There are challenges in the model. If you're delivering to people's doorsteps, there's a cost and manpower to that. If you're shipping, which competition largely does, there's a cost to that. There's also an environmental impact to that that many of the customers that come to the business for sustainability reasons get turned off. It is a real challenge.
Before that, you were working at Share Our Strength and Childhood Hunger. What was it like working in a nonprofit relative to working in a for-profit business?
When I first started having conversations with them, I had never worked at a nonprofit up to that point. I had certain perceptions. I assumed it was going to be more laid back than for-profit. There would be jeans and Birkenstocks, but it was far from that. It was very professionalized. It was a very well-run operation. Maybe not surprising because the organization had been around for about 30 years, Share Our Strength. The No Kid Hungry campaign was newer. It was a ten-year-old campaign but for me, it was very similar to things I had been doing for a while, which is mission-driven businesses. It's that passion and commitment to the mission, and doing whatever it takes on whatever project, initiative, or challenge that comes up.
I felt that to be a very different cultural vibe than in for-profit organizations where the mission is not as integral to the day-to-day. For me, that was very similar. The key difference would be when you're in a for-profit company, investment decisions and the risks that you take were with either profit of the business or investment dollars in the business if you're early stage. It's part of what you do. You're innovating. You're testing and trying new things. In a nonprofit, you're playing with donor money, so it's different. It's not to say we didn't take risks and try new things, but I found it to be not as risk-prone or willing to take risks as in a for-profit.
You probably feel a greater sense of accountability to watch every penny because it is donor money.
Also, because of what you're trying to do with the money that you're raising. In our case, we're trying to feed hungry kids. I viewed my job quite simply as chief revenue marketing officer. We build our brand, but we bring in as much money as possible so my program colleagues could put it to good use to feed hungry kids. You're testing some things and if it doesn't work, you would feel some different pangs of guilt like, "We could have used that money differently.
You had a professionalized fundraising approach. A lot of times, it's the CEO or the head of the nonprofit that's the chief fundraiser. I remember I talked about this in earlier episodes of the show. When I was doing work with United Way back when I was working at McKinsey, the woman Marilyn Heard was running United Way. She was a tireless fundraiser. Morning, noon, and night, she was at some breakfast, some lunch, and some dinner pounding the pavement and looking for money for United Way. One of the impressions I certainly got from that experience of working with them is, "That is an exhausting job for seven days a week. It's brutal."
It is. For me, when the mission is so compelling and the need is so strong, we celebrated wins and we had a lot of good wins from a fundraising standpoint, but it's still never enough until you solved the problem. In our case, we felt like it was a solvable problem, ending childhood hunger in America. We made great progress. Still, there was very little time to take a breath and say, "We did it," because you're onto the next one, the next partnership deal, and the next event. We did a lot of corporate partnership work but we also did plenty of dinners and events like many nonprofits do, and plenty of digital fundraising. We were pulling on every avenue we could to raise as much as possible.
Would you work for another nonprofit?
For sure. Particularly if it's an organization that I'm doing work in a space that I could get excited about or motivated by issues that I care about. As a consultant, I've worked for a few organizations. One in the environmental space. I'm dealing with plastic waste and addressing that. Another one is in the hunger and poverty space, but more around helping small farmers get better at what they do. Heifer International, you might know. I'm very open to more work in that space because it's rewarding.
You've always struck me in the time I've known you over the last 10 to 15 years in this space. The mission has played a key role in what you've chosen to do professionally. Whether you're working for a for-profit or a nonprofit institution. I have to imagine, that plays in pretty heavily in how you think about even what you're doing now.
I got to a point after some early career experiences working for some great companies that I learned a lot at like Coca-Cola, Nestle, and Diageo, where I wanted something more. I could sell or market. At that point, I had done candy, yogurt, soda, vodka, and all product categories.
It's all of life's necessities.
It's right off central food groups. I said that I can keep doing that or I can try and work on some businesses that I felt were making a difference in the bigger picture in either health and wellness or sustainability, and something more than just the financial transaction of selling something. Ideally, I do both. For me, I was dabbling and consulting in that space on the side for fun, and advising a few companies.
Fortuitously, I got introduced to Seth Goldman who co-founded Honest Tea. He convinced me to join the team. That was a dozen years ago or so. It was my first time inside a mission-driven business in an operating role, and I loved it. That was a great learning for me about myself and about the kind of culture I wanted to be a part of. It's very entrepreneurial and very willing to try new things. We created tons of new products that fortunately most worked. Not all, but most did.
The mission was compelling. It wasn't something that we had painted on the wall or we had to reference occasionally. We didn't have to name conference rooms around values. We lived it. I say it that way not to criticize all the companies that do those things to help communicate internally because that's important, but it was infectious to have it influence and help our decisions day in and day out. It was great.
I've stayed on that path since. The food ingredient startup I was with was trying to tackle the sodium over-consumption problem, which is pervasive around the world and it's in so much of our food. They've come up with an ingredient alternative that the food system could use at scale. It was a potassium chloride product instead of sodium chloride. From that to Share Strength in the No Kid Hungry Campaign. To me, while it was nonprofit, it was still food and it was still a mission. Most of our corporate partners, which was about two-thirds of our revenue, were corporations.
That was familiar and comfortable, but it was new and different for me to be in charge of high-end dinners to raise $500,000, $600,000, and $700,000. I had never done that before. That was a little bit scary, but also a lot of fun to try and learn. Fortunately, I had a great team and professionals who knew how to do it. To your question, for me, the mission has been that thread since Hungry Harvest that we talked about. It was very mission-driven. The clients now that I have been working with and that I'm having conversations with in terms of potential additional roles, I would say they all have a strong mission component to them. That's by design as I do my business development in terms of who interests me and who I'm getting introduced to.
How did you get into the food and beverage space in the beginning?
I have to give a lot of credit to my dad. His career is very interesting prior to starting his own business. He worked at Procter & Gamble for a while. He worked at Gillette in Boston. That's when I was born. My family was living in Boston. He took an advertising job in Manhattan. That brought my family close to Manhattan in Connecticut. He had a couple of different roles in different organizations, but he started his own new product consultancy. He was working a lot in the consumer product space. Not exclusively, but a lot in that space and particularly food.
One summer, he hired me. I literally carried his bag to meetings that summer in college. This was when General Foods existed. Kraft bought them, which then became a part of Mondelez. There I am in meetings with businesses I don't remember. It was Jell-O, Birds Eye, and brands like that. One, I got the bug for business. Two, I got a bug for marketing. In organizations like that, marketing was often a general management role. You were developing growth strategies and implementation plans, and then you had to rally the organization. Whether it was manufacturing, distribution, R&D, or failure to implement those plans. It all came out of the brand plans.
That idea, sort of this holistic view versus a single functional view, I took to that. I went to the University of Virginia for undergrad. That gave me the focus on marketing and particularly consumer products. I started my career working at Nestle in the candy business. First, Nestle Crunch, and then we bought Butterfinger and Baby Ruth. We worked on Butterfinger. If you remember The Simpsons Butterfinger campaign. That was me and my boss.
"Nobody lays a finger on my Butterfinger," I remember Bart Simpson doing that.
That's right. That was fun. I was right out of school. I was living on spreadsheets doing forecasting and trade spend analysis. I got to fit in on some of those meetings. It was fun.
You've worked for some big names like Coke, Nestle, Diageo, and Danone. These companies on the inside, is it same type of work, different product, or are they different in how they operate?
At a high level, there are similarities from a business planning standpoint. The annual business planning cycles were similar. The cultures were very different in these organizations, which I think were driven by a handful of things and certainly by the size of the company. Coca-Cola and Diageo are huge global businesses selling around the world. The culture of these businesses certainly is informed by where they are or who they're owned by. Danone is French. Diageo is British. Coke is American, specifically in Atlanta, so a Southern heritage. It all played a part. None of it was good or bad, it's just different. Some are very interesting.
For example, Diageo is very consumer insights-centric. It's a good way for businesses that were huge and needed insights to drive growth. That was a stronger team in the organization and a more important team than I had seen. In other organizations, you might just have a market research department. This was an insights team, and members were embedded with business units. It wasn't a separate function. There were things like that that made it very different.
You've done some advisory board work as well. How have you found that? How has that added to what you've learned along the way in your career?
Part of it is a bit of giving back because most of the organizations that I've been advising are first-time entrepreneurs. Not always but often very young. They're learning a lot. If I can be helpful to them and they can make fewer mistakes, that's great. There are times as well when I'm learning from them. Before I worked at Hungry Harvest, I started working for a direct-to-consumer business. I had done some direct-to-consumer work but not much.
I was advising a company that started since they launched. I started working with them when they were pre-revenue direct-to-consumer for the foreseeable future. I was learning from them rolling around in their spreadsheets and their analyses about how they're going to build the business, which is a bit different than a traditional retail business. For me, it's both giving back and sometimes some opportunities to learn. I enjoy it. It's a fun part of the mix. I consider it part of my portfolio.
For entrepreneurs who might be tuning in and who are thinking about when to form an advisory board and who to put on their advisory board, any advice that you would give them?
In terms of when, I don't think it can be too soon. As you're developing your plan, position it and make sure that what you're going to market with is solving a problem. There was a company that I advised for a while. It was before they launched, and I spent a lot of time with them helping them think about how to position the company given the competition.
As you're developing your plan, position it and make sure that what you're going to market with is solving a problem.
Click To Tweet
I think early is great, but the key is the right people. It's not just friends and family, which a lot of people default to. That's not bad. The key is that they have complementary skills and experience, added value, and things you haven't done before. It's certainly as helpful if they're well-connected and they know a lot of other people that they can pull in as needed as the business grows.
The third thing is tremendously helpful because this happens when you need someone to be more than just an advisor or a connector. There are times when you need them to roll up their sleeves a bit. It could be joining you in a meeting with one of their close connections. It could be digging in on something that they have real subject-matter expertise on for a period of time to help. That does depend a little bit on your stage of growth. If you could land someone with all three, that's ideal, but at least get one.
How would you define leadership? How is your view of leadership formed over the years?
I probably learned more about leadership from people I've worked for than anything. It's not so much in a book or what we learned in B school. It's by doing. It's learning from others, but also my own practices on what I have felt works well or not. To me, core leadership is setting a direction, having a vision, having clear objectives, having a plan, and then rallying others behind that plan. That's what it is in how my personal leadership approach is informed about how I like either to be led by others or those I've observed. Once you get that alignment, coach, guide, support them, or whatever is needed because it varies. I've had half a dozen direct reports, and they all have very different needs. Some need a lot more help and guidance and others less so. Both are fine.
As much as possible, I try to get out of the way and engage to stay on top of what's going on, but more so to help elevate ideas. In a lot of organizations I've been in and even in small organizations, surprisingly, you can end up with silos where different teams don't know what the other is doing. A lot of my role is connecting the dots, seeing a great idea coming out of one team, and then pulling in others from other teams to build upon it. We're doing fewer bigger initiatives that have a greater impact, instead of having ten activities here and ten activities here, then let's integrate.
That's where a lot of my leadership comes in and that I enjoy doing. I am not a micromanager. I don't think anyone would ever say I am. I've never enjoyed working for a micromanager. My leadership style reflects that very much. I'm very trusting and happy to have folks take that hill and keep me in the loop. If you need my help, I'm here.
I don't like working for micromanagers either. One of the things that I'm discovering in the role I'm in right now is that there are some projects that we've got going on where you have to sweat the details. It's a bit like managing an important event. You think about every little thing that has to happen and things that can go wrong, and make sure that you're on top of all that. It does feel like you're micromanaging sometimes and I find that uncomfortable. At the same time, some of it in situations, you just have to. You have to sweat the details. You have to be in the weeds with the team. They don't like it but it's necessary in some circumstances.
You're spot on, J.R. It's hard. Recognizing that it's hard for us as leaders brings us self-awareness so that at the moment, hopefully, we're not coming off as we don't trust you. That's why we're digging in. What I try for is I'm digging in because I care and I want to help. I'm not looking to call you on areas where you're falling short. You have to do that if you have to, but it is about trying to elevate the team and the output
Particularly for a lot of mission-driven work, whether non-profit or for-profit, we spend very little time in places like Honest Tea criticizing when something goes wrong. We learn from it, acknowledge what we could have done differently or better, and we move on because we have to. Not every organization does that. Sometimes you have leaders with backgrounds that are more of a micromanager and look for the flaws versus elevating and helping solve problems before they are problems. It's hard.
It's a hard balance. When you hire people, what do you look for? What's most important to you?
A couple of things. Particularly with what I've been doing for a while now, trying to ascertain a true passion for and commitment to the mission is important. You can get at that in a number of different ways. For more junior roles, I'm looking for a demonstrated work ethic because they're at a stage where they're still learning and growing. For more senior leaders, the track record is fundamental. A track record of results related to the role that you're filling. If you have both of those and you have a track record and a commitment to the mission, then that's a strong contender for sure.
It is especially important to you, given what you're doing and the kinds of things that excite or motivate you.
With what I'm doing specifically now with my consulting firm, those that I pull in that are part of my extended team are boutique agencies and other freelancers I know. I'm looking for subject matter expertise. I need an SEO expert. I need a packaging designer. I can do some of those things. I certainly can't do packaging design. I can do some SEO but I'm not a specialist. I know how to ask enough of the right questions. Those are just examples. In that case, you're also looking for chemistry because you're partnering to help a client. If it's someone I've worked with and built that rapport with, that helps a lot. If they come highly recommended by someone I know, that's valuable. That's from a hiring standpoint.
I want to come back to something you said earlier in the conversation at the very beginning about being open to opportunities. Talk a little bit about what that meant to you in terms of the way that you've approached the career choices that you've made over the years.
I'm very curious, eager to explore and learn, and open-minded. That has led me to probably entertain certain opportunities that I wouldn't otherwise. You want to progress in your career. You want to do better. Taking a call from a former colleague or from a recruiter, and being willing to do that, I've done that over the years. I've done some things that I never would've imagined.
Going to a nonprofit, I wasn't looking for that. It found me. I wasn't targeting Honest Tea, but it found me through an introduction from a former colleague. There are two parts to your question. One is open-mindedness and willingness to explore. Number two is I've tried to build a strong network and stay in touch with people over my career. I'm still in touch with my first real boss out of college when I worked at Nestle.
Your candy bar boss?
Yes, exactly, and just about everyone in between. The guy that hired me at Coke, I'm still in touch with him. You never know who you're going to cross paths with again in your career. you never know what opportunities they may uncover and bring to you. Definitely, my career has not been linear. It has not been an orchestrated this than that. Every move has been for a reason and every move generally has brought something new and different.
When I went to Diageo, I hadn't done any global work before. All of a sudden, I was working on a business like Smirnoff that was sold in 120 countries. I had only been US-focused. It was totally different. It was awesome. It was great to travel. It's intellectually an amazing challenge to think about how you build a business that sold in that many countries. You're on a central team going to a nonprofit, there were similarities. There was still food and mission, but to raise money from high net-worth individuals, which was different in other aspects of the role.
That has been a common thread, but it has been an open-mindedness to explore, listen, have a conversation, and think it through. As I reflect, I value my network value, many of whom I consider friends and folks I've worked with. That has been valuable as you go through the journey of the unexpected.
I haven't even mentioned that I've lived through restructurings and acquisitions, as many folks in business have. That brings a whole other layer of turmoil and chaos as you're navigating your career. Trying to learn how to be resilient and look for the positives and learning opportunities even in the midst of those. Those are things that at the moment are hard to top of mind, but it's also reality. It'll likely happen again.
When you look back, what do you wish somebody had told you when you were starting out at Nestle fresh out of college that you learned much later in your career?
I don't know if it's something that someone would've told me, but if I could have had exposure to entrepreneurial businesses early on, I might have made that shift sooner, if not right away. I love the pace. I love the challenge. You're building something from nothing. I've learned that I don't love lots of meetings and lots of big decks, though I can do that. I wish I had more exposure to entrepreneurship and given that more consideration sooner. I'm thrilled I'm doing it now. Maybe it did come my way and it just didn't resonate at the time. I don't recall it being as prominent as "Here's a potential career path or something you can do." You get driven towards existing big companies to get a job. It is what it is. I'm glad I'm doing it now.
I don't know if you took any of the entrepreneurship classes when we were in school. I took entrepreneurial finance. If there was this lesson that seemed to get conveyed in that class, it's like, "If you want to be an entrepreneur, you'll work insane hours and you'll have to throw all of your life savings into it because that's what a venture capitalist will expect." That may have been true then. It's certainly not nearly as true now. I think the entrepreneurial world is a lot more friendly to new entrants than it used to be.
That's true. I do think I took entrepreneurial finance. In hindsight, maybe I was turned off by some of those dimensions as well.
Also, in your space, it was hard 30 years ago as a startup food company or beverage company to crack the trade. Now, they create spaces that are oriented toward entrepreneurial brands. It's much more part of the retail distribution of food and beverage products. That was certainly not true back when we were in our twenties.
That's right, and you have pretty well-established chains like Whole Foods, Sprouts, and The Fresh Market that are geared generally towards better-for-you brands, which is where most innovation is. To your point, you're not trying to carve out space in a very mainstream store. Although, those have changed as well, and have a lot more opportunities. The retail environment is different.
It was fun doing this. I did a terrible job getting through my questions. There's much more we could have covered, but it took a meandering path through the list of questions and covered a lot of different things.
I enjoyed it.
It was fun to catch up. In each of these conversations with former classmates, I learned more about what they've been doing over the years than I knew before and I value that. Thank you.
Thank you, J.R. Thank you for having me. I hope this is helpful to your audience.
I appreciate that. Have a good rest of your day.
You too.
It was fun catching up with Peter. I appreciate him joining me to discuss his career journey, what he's learned along the way, the importance of the mission, and everything that he's doing at the moment. You can learn more about him and his firm, PK Growth Partners, by going to PKGrowthPartners.com. If you're ready to take control of your career, you can visit PathWise.io. If you'd like more regular career insights, you can become a member. It's free. You can also sign up on the website for the PathWise Newsletter. Follow us on LinkedIn, Twitter, Facebook, and YouTube. Thanks and have a great day.
Important Links
About Peter Kaye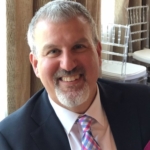 Peter Kaye is currently the Founder and Principal at PK Growth Partners, which works with C-level leaders primarily of entrepreneurial, mission-driven firms to develop and implement profitable growth strategies.
Peter began his career with classic consumer-packaged goods companies like Nestle and Danone in product management roles. He then worked in marketing and brand management roles with organizations like the Coca-Cola Company and Diageo.
And in recent years he has held c-suite roles, such a Chief Marketing Officer and Chief Revenue Officer, with mission-driven businesses including Honest Tea, the non-profit Share our Strength that runs the No Kid Hungry campaign, a Venture-backed "better-for-you" food ingredient startup called NuTek Natural Ingredients, and most recently at Hungry Harvest, a farm-to-doorstep produce delivery company.
Peter serves on several advisory boards of early-stage companies. He earned his MBA from Harvard Business School and his Bachelor's degree from the University of Virginia. He and his family live in the Washington D.C. area.